Fall 2016, Freshman English
Speaking And Listening Your Way To Fluency
英语有 1000 个高频词覆盖你 85%的日常交流。
Attendance and participation are mandatory to be successful in this course.  If you miss more than one class or are late twice, you will not receive a grade in this class or will have a 0% participation grade averaged into your final grade. You will fail if you don't attend and each lesson builds upon the final objectives of the course. You will need a notebook or binder for this class and you must join the class Wechat group, which will be a resource prior to each lesson.
课堂是必须出席的,通过出席本课堂,不管你现在英语水平如何,学完后,你都可以说一口流利的英语。
Introduction:  
Course description: This course is based on New York State Common Core Standards for new language arts progressions.  Students should improve in fluency by scaffolding through the five levels of language progression: entering, emerging, transitioning, expanding, and commanding. Target instruction to students will be based on their level of proficiency and progress.  During the 18-week course all students, as long as they attend class, will improve in fluency through comprehension and participation.  
The course will be separated into five modules: Interpersonal Communication, Presentational Writing, Interpretive Listening, Interpretive Reading, and Presentational Speaking. This is primarily a speaking course designed to inspire confidence in speaking English. (During the Interpretive Reading module we will be speaking about and analyzing the text.)
这节课基于纽约州常用核心标准
Course Objectives:
Initiate and participate effectively in a range of collaborative discussions (one-on-one, in groups and teacher-led) with diverse partners on topics, texts and issues, building on others' ideas and expressing their own clearly and persuasively.
Students will:
a.

Come to discussions prepared

, having read and researched material under study; explicitly draw on that preparation by referring to evidence from texts and other research on the topic or issue to stimulate a thoughtful, well-reasoned exchange of ideas;
b.

Work with peers

to promote civil discussions and decision-making, set clear goals and deadlines and establish individual roles as needed;
c.

Propel conversations

by posing and responding to questions that probe reasoning and evidence; ensure a hearing for a full range of positions on a topic or issue; clarify, verify or challenge ideas and conclusions and promote divergent and creative perspectives;
d.

Respond thoughtfully

to diverse perspectives; synthesize comments, claims and evidence made on all sides of an issue; resolve contradictions when possible and determine what additional information or research is required to deepen the investigation or complete the task;
e.

Seek to understand

other perspectives and cultures and communicate effectively with audiences or individuals from varied backgrounds.
Teaching Methodologies, daily class expectations and general format:
A- Intro and learning target given to the class (Objective: 5 minutes)

B- Listening practice, multimedia demonstration (Do Now Task: 10-15 minutes)

C- Group text analysis and preparation for class presentations (Mini-lesson: 25 minutes)

D- Group task, conversation, class discussion of learning target (Modeling: 45 minutes)
Each group may be assigned a different task:
Analyze a theory or text

Develop a set of questions relating to the text

Define new language / vocabulary

Make connections from the text to their own lives

Create a visual for the text

Make a presentation summarizing the text
Grading:
25% Participation/Attendance/Quiz
25% Debates        
25% Group presentations
25% Final presentation
Required materials and class rules:
Text for analysis will be provided for each learning task. They should be saved in a binder or with the student's journal.

English only during the class period

Mobile phones may be used for dictionary use only

If a class is missed, report to the teacher for materials and plan for makeup
Tentative course schedule: (Teacher/Student reminder, if a video is played it will be usually be <5 min., related to the topic and students will be given 3 Comprehension Check Questions prior)
Time

Topic

               Lesson Objectives

Lesson Plan

Week 1




(September)

Interpersonal Communication Goals


· Introduction

and overview of the course. Student centered feedback on syllabus




· Discussion of students' needs and expectations.




· Writing and speaking persuasively about themselves




· Asking good personal questions

·Students will understand they can't miss any classes




·Students will identify effective and ineffective techniques for persuasive writing

·Write an elevator pitch (A 30-60 second introduction about yourself and goals)

· Complete "Find someone who" worksheet group speaking task

Do now:

(10Min)

Write introduction
Mini Lesson:

How to write persuasively (25 min)
Modeling: Evaluate your partner's elevator pitch, presenting your partner

Week 2

Interpersonal Communication Goals


· What are good/bad personal questions?




· What questions should you not ask?




Why are questions important according to Hal Gregersen

and what does he suggest? Why do children repeat questions? What should people do?

· I can start, maintain, and end a conversation on a variety of familiar topics.




· I can talk about my daily activities and personal preferences. I can give reasons for my preferences.




· I completed the listening practice and vocabulary

Do now:

Ask your partner 5 personal q's

(10Min)

Mini Lesson:

Types/ Effective Questions

(25 min)

Modeling:

P. 2,4,7

Week 3

Interpersonal Communication Goals


·What are Open, clarifying, closed questions?




What are probing questions?

· I can ask for and provide information about a hobby or lifestyle, such as bicycling, vegetarianism, video games, or sports.




· I can ask for and provide descriptions of places I know and also places I would like to visit. I can talk about my family history




· I can interview someone for a job, project or a publication.

Do now:

Write 5 professional interview questions

Mini Lesson:

What are probing questions?

Better conversation
Modeling:

Role Play a job interview with a partner

Week 4

Interpersonal Communication Goals

Where were you when…?
What were the biggest events in you or your family's life?
What was the biggest event for China?

· I can talk about artists from other countries.




· I can talk about historical events.




· I completed the

Where were you when? Worksheet




· I can communicate effectively on a wide variety of present, past, and future events

· I can speak using the past tense and used linking words like And then… Next… Finally….

Do now:

Write down the biggest event in China in your lifetime.

(10Min)

Mini Lesson:

(25 min)

Modeling:

Group Presentation

Week 5




(October 10)

Interpersonal Communication Goals


What is a story according to the speaker?




What are your biggest childhood memories?




Where do you picture yourself in ten years? What will you be doing?

Complete student survey on baenglish.com for feedback during first 5 weeks!

· I can give a clear and detailed story about childhood memories, such as what happened during vacations or memorable events and answer questions about my story.

· I can discuss future plans, such as where I want to live and what I will be doing in the next few years.
Apricot CCQ:

1. What questions does the man ask the woman? 2. Why do you think he wants to know this information?3. Why is the film called Apricot? 4. What's the meaning of the film? 5. How did the film make you feel?

Do now:

What was your biggest childhood memory?

(10Min)

Apricot film and CCQs
Mini Lesson:

Techniques (25 min)
Modeling:

Tell a story about your childhood

Week 6

Presentational Speaking


What is your favorite famous quote, who said it and what does it mean?




What are the seven secrets of presentation speaking?

· I can give a short presentation on a famous person, landmark, or cultural event.




· I can report on a social event that I attended.




· I can make a presentation on something new I learned.




· I can make a presentation about a famous speaker (other than Steve Jobs)

Do now:

Write down your favorite famous quote.

(10Min)

Mini Lesson:

Secrets from the greatest speakers

(25 min)

Modeling:

present about a famous speaker

Week 7

Presentational Speaking


·Presenting a point of view and provide reasons to support it.




Do I support my opinion with textual evidence, facts or figures?




What are primary sources and secondary sources?

· I can make a presentation on rules or policies such as cell phone use, dress code, or requirements for driving and explain my viewpoint.

· I can share and justify my opinion on common issues such as allowances for children, curfews for teenagers, budget-related topics, etc. I can explain my point of view on current event topics such as recycling, nutrition and exercise, the food supply, conserving energy resources, extreme weather events, etc.

Do now:

Name two factual sources

(10Min)

Mini Lesson:

(25 min)

Modeling:

Debate a topic

Week 8




(November)

Presentational Speaking


What are the modes of persuasion?




What is a resolution?

What is a declaration?

What is a judge evaluating?

What is personal bias?

· I can present a position during a formal debate.




· I can defend my views during a debate.




· I can participate actively and react to others appropriately in academic debates, providing some facts and rationales to back up my statements. I can participate actively in a friendly political debate.

Do now:

Create a debate rubric

(10Min)

Mini Lesson:

(25 min)

Modeling:

Start midterm debates

Week 9

Midterm Debates

· I can evaluate a debate.

Finish Midterm Debates

Week 11

Presentational Writing

· I can write a personal mission statement.




· I can research a job a want and write a cover letter.




· I can write a statement for a job application.




· I can write a statement of purpose related to my professional goals.

Do now:

Write your passion

(10Min)

Mini Lesson:

How to write a cover letter

(25 min)

Modeling:

Present your dream job

Week 12

Interpretive Reading

What are some of the cultural characteristics of this story that make "Sealed Off" a Chinese story?
What point of view does the author use? How does this affect the story?
How does Lu Zongzhen's attitude towards Wu Cuiyuan's physical appearance change? Why is this important?
How is irony used in the story?

·I understand

literature and character terms

like protagonist, antagonist, ec.




· I can read texts that compare and contrast information.




· I can understand narrative, descriptive, and informational texts of any length.




· I can follow the chronological plot in a simple short story.

Do now:

Write a paragraph response to one of the quotes: explain why you care for it, explain what it means, and predict what the story may be about

(20Min)

Mini Lesson:

(25 min)

Modeling:

Present a moment in your life when "time stood still."

Week 13

Interpretive Reading

· I can follow stories and descriptions of considerable length and in various time frames.




· I can understand texts written in a variety of genres, even when I am unfamiliar with the topic.




· I can compare and contrast information from a text or story.

Do Now:

Watch Sealed Off short film (15 min)

MiniLesson:

Reading Quiz of Sealed Off

Modeling:

Quiz discussion of themes and symbols  in the text

Week 14




December

Interpretive Listening

· I can easily follow narrative, informational, and descriptive speech.




· I can understand discussions on most topics that deal with special interests, unfamiliar situations, and abstract concepts.




· I can sometimes follow extended arguments and different points of view.

Do now:

Write themes from the last movie you saw

(10Min)

Mini Lesson:

(25 min)

Modeling:

Present symbols and themes from a song, show or movie

Week 15

Interpretive Listening

· I can understand shades of meaning when watching a movie or listening to a song.




· I can understand the plot and cultural implications of oral narratives such as folk and fairy tales.

Do now:

Write down themes from a song

(10Min)

Mini Lesson:

Analyzing a song (25 min)

Modeling:

Present your song analysis

Week 16

Final Presentations

What is expected?
Presentation tips

· I can deliver short presentations on social and cultural topics.

· I can present an explanation for a social or community project or policy.

· I can give a presentation about the importance of certain social and cultural practices.

· I can give a presentation on traditions related to social events such as homecoming, graduation, marriages, funerals, etc.

Do Now:

Discuss a final presentation topic based on the "I can" statements from week 16

Mini lesson:

Week 17

Week 18
January

Responsibility:

Group members should plan to share presentation responsibilities and field questions equally. Each group member should speak and present. Points: The presentation is worth a total of 10 points. Each category is worth the following: presentation quality = 4 points, oral English = 4 points, fielding questions = 2 points. Presentation: The content and formatting of your presentation is open to your choice. (PPT ok)

Final Presentations:

Group Size: Groups may be 1 or 2 people. If two people are presenting, they should choose the same topic. You should not be relying heavily on notes, or reading from notes or phones. Consider this a professional presentation. The informal speaking practice/research in class to date has been just that, and this presentation is 25% of your grade. English only. Time: Groups have 5 min. (3-5 for individuals) for presentation and 1 min. for questions following the presentation. You will be given a 1 minute warning at 4 minutes and cut off at 6 minutes due to constraints of class size and presentation time

Content:

TBA. Students are expected to give a quality presentation.




The focus of this category is on the clarity, organization, preparedness and smoothness of oral presentation.
ATTENDANCE AND ASSIGNMENT CONTRACT:
I acknowledge that I have received and reviewed the course syllabus for Xinhua College
Fall 2016, Freshman English, Speaking And Listening Your Way To Fluency. My class meets on _____________  at ___________ in room ______ . I have read the syllabus (either in paper or online), and I understand the classroom policies, instructors expectations, and rules (eg., technology and text requirements, grading system, attendance policy, academic integrity policy, assignment responsibilities, test policies, etc.) as stated in the syllabus for this course. If I have any questions or concerns, I will contact the instructor for further explanation. I understand that I am responsible to complete all  quizzes, in-class assignments, teacher feedback survey and each written "do now" in my journal on or by the dates as outlined in the syllabus. I agree to be prepared for and attend every class.
STUDENT NUMBER ________________    ENGLISH NAME _________________
CHINESE NAME ____________________   DATE _________________
---
The following courses are no longer being taught since the move to China:
Conversation And American Accent Training
Fridays 6p.m. to 7:30 p.m.  800,000VND per month (6 hours)
Adults and 14+
Contents of this speaking course include:
The dialects of North American English vowel sounds and combinations
Syllable stress placement and intonation
Consonant stops and continuances
Voiceless stops versus voiced stops
Pronunciation drills with common variations of verb endings
Listening practice outside the classroom with assigned tasks based on the individual student's needs
Common contractions and pronunciation practice
Summary of some important speech aspects
Pitch patterns in questions and declarative sentences
Practicing stress, pitch, linking, and reductions
---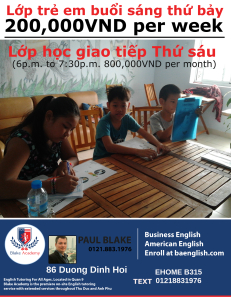 American English For Beginners 
Sundays 8:00a.m. to 9:30a.m.
Ages 5+

1.5 hour courses are based on Family & Friends, altered slightly for American pronunciation and expressions. Students do not need to purchase a book and will be provided with detailed lesson materials.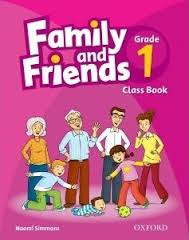 Family and Friends is a seven-level primary course which offers an exceptionally strong skills training program covering language, phonics, and civic education.
No other course offers you the same benefits as Family and Friends for new English speakers.The exceptionally strong skills training program includes a focus on real speaking.
---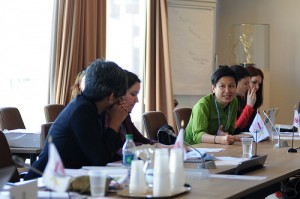 Advanced and Business English
Ages 16+
Whether it is conducted on-site at your company or at Blake Academy, we'll teach you everything you need to know for effective business communication.  The program prepares professionals for business meetings, reception, telephone communications, customer service and sales interactions. Improve your company's communications starting at $50 USD per hour for up to 5 students.  Individual Business English starts at $30 an hour.
The aim of this study course is to greatly increase the business students understanding of many useful business related topics and thus enable the business student to "stand out" and be positively noticed in the workplace as a more knowledgeable and useful employee. Through this business course you will increase your professional abilities and common sense business knowledge.
This is a conversation business studies course.

Contents:
UNIT ONE. Presentation skills in English. Practice presenting in English.
UNIT TWO. Team building at work. Tips for a successful team and how a team can fail.
UNIT THREE. Team motivation. How to motivate team workers. ( Conversation practice).
UNIT FOUR. Key team players. ( Conversation workshop ).
UNIT FIVE. Dealing with stress at work. Understanding stress at work.
UNIT SIX. Accepting constructive criticism and team work. Part One. How to accept constructive advice at work.
UNIT SEVEN. Giving constructive criticism and team work. Part Two. How to give constructive advice at work.
UNIT EIGHT. Business telephone English. Methods for using business English on the telephone and practice role playing on the telephone.
UNIT NINE. Performance indicators. How a company can measure its performance in the competitive market.
UNIT TEN. Soft Skills at work. The skills which employers require from employees.
UNIT ELEVEN. Time management at work. How to plan your working day at work.
UNIT TWELVE. Hard skills, IQ verses Soft skills EQ. Which is more important for employers?