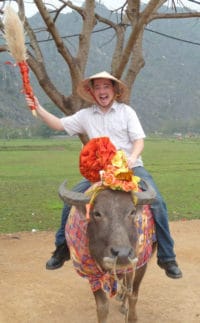 I've been teaching for this company for the past year. Please use this link for a $50 bonus and signing bonus upon hiring.
https://t.vipkid.com.cn/?refereeId=2035901&refersourceid=a01
This job is for North American, Native English speakers only.
There is no prep and PPT lessons with directions are provided during each class.
The system is easy to use.
-It requires at least a 5MB direct internet connection (WIFI even at high speeds can be unreliable so use an Ethernet cord)
-Previous ESL experience
-Flash in a browser (I use a Chromebook and it works great.)
-Bachelors degree
-Canadian or American citizenship
-Bank account for monthly salary transfers (The company does not take out any tax, you receive 100% of your pay if you have a USA bank account.)
-Tax info for 1099/Independent Contractor position (After you sign contract, don't email me personal info, use link to apply)
-A thick skin: Only 10% of applicants actually get hired so grow up if you can't handle your first job application rejection.
This company is highly regarded on Glassdoor and is ranked by Forbes as one of the top, legit work at home opportunities. Please don't apply if you aren't a native speaker and use my link for a referral and bonus.
*Please note that the company recently created policies to make raises unobtainable and other incentives can usually be ignored. You'll want to demand your worth upon hiring as that will likely be your long-term salary. $8/$8.50 base per 25-minute class is normal for someone with experience. You "can expect" an additional $2 per class just for finishing a normal amount of classes. This is an excellent part-time job and I wouldn't recommend it as full-time work. I teach about 20 hours a week and make at least $1500 a month. Tax is not taken out so another thing to consider is the approximately 15% you'll need to set aside for The Man. I started doing some teaching outside because the $20-25USD you can get in person is actually way more than their max of $22 pretax online. Overall, it is an excellent supplement to an existing job and is perfect for avoiding nightmare commutes.*
The company will be happy to answer any additional questions during the hiring process.
Good luck! I hope you enjoy it as much as I do.