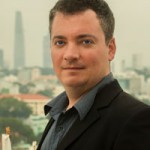 We specialize in business and agency communications. As a publisher for nearly a decade, Mr. Paul has extensive experience in media buying, agency communications and negotiations. In Vietnam, he founded Two Franks Media, a consultancy firm that supplies ad agencies with freelancers including motion graphic artists, designers, 3D animators, and online ad managers.
Mr. Paul can improve your organization's English language sales skills, which will help improve your bottom line.
Improve:
Negotiations in media buys
Agency and advertising lingo
Media planning
Sales communications
Effectiveness of social media
Identifying client needs
Presentation skills
Prospecting and persuasive language
Business vocabulary
How to exceed client expectations
How to solve problems and deliver results
Improve your company's communications starting at $50 USD per hour for up to 5 students.  Individual Business English starts at $25 an hour.
General Business English Contents:
UNIT ONE. Presentation skills in English. Practice presenting in English.
UNIT TWO. Team building at work. Tips for a successful team and how a team can fail.
UNIT THREE. Team motivation. How to motivate team workers. ( Conversation practice).
UNIT FOUR. Key team players. ( Conversation workshop ).
UNIT FIVE. Dealing with stress at work. Understanding stress at work.
UNIT SIX. Accepting constructive criticism and team work. Part One. How to accept constructive advice at work.
UNIT SEVEN. Giving constructive criticism and team work. Part Two. How to give constructive advice at work.
UNIT EIGHT. Business telephone English. Methods for using business English on the telephone and practice role playing on the telephone.
UNIT NINE. Performance indicators. How a company can measure its performance in the competitive market.
UNIT TEN. Soft Skills at work. The skills which employers require from employees.
UNIT ELEVEN. Time management at work. How to plan your working day at work.
UNIT TWELVE. Hard skills, IQ verses Soft skills EQ. Which is more important for employers?